sup10year


Reimagine 
Celebrating Ten Years of Sustained Excellence
 
For the past decade, GW's Sustainable Urban Planning (SUP) master's program has provided emerging leaders from around the world with the tools to effectively and responsibly reimagine the communities of tomorrow.
We challenge our students and alumni, the change agents of the future, to use their training, education and innovation to transform policies, systems and communities. They recognize their responsibility to make planning decisions through the lens of sustainability, attaining more competitive, socially inclusive and ecological cities through their ongoing efforts. With today's unique global, environmental and social challenges, our alumni are driven to create healthier, more equitable communities every day. 
Star Alumna Leading Change in the World
Allie Thompson, SUP '18, is changing the world one day and one interview at a time. Recently she shared her expertise as project lead for The Climate Service via The Climate Adaptation Channel. During the interview, Allie shares the trends we are seeing in climate risk and how this conversation has evolved over time. She introduces us to how The Climate Service helps their clients understand their exposure to climate change, embeds climate risk into global decision-making and facilitates the world's transition to a lower-carbon economy.
 
How Our Alumni Change the World
Our alumni serve in positions that lead change like sustainability officer, director of equity, community engagement manager and long range planner. Here are just some of the field's top organizations where SUP graduates are advancing their exciting careers: 
Urban Land Institute
Trust for Public Land
Nature Conservancy
UN Habitat - UNHCR
China Fortune Land Development
The World Bank
Asian Development Bank
Local and regional governments 
DC DOT
DC Southwest Business Improvement District
Fairfax County
Top of Alabama Regional Planning Council
U.S. Air Force
U.S. Department of Housing and Urban Development
U.S. Department of State
US AID
US EPA Sustainable Communities Program
ICF, International
Michael Baker International 
Gannett Fleming, Inc. 
Ian Thomas Group 
Island Press
HKF Group 
Meet More of Our Alumni
Since winning the prestigious GW Award and returning to her native Kosovo, Fjollë is pursuing a Ph.D. in Environmental Management. Already an architect, sociologist and urban planner, @FjolleCaka is working towards sustainable, climate resilient, just & healthy cities @UNHabitat.
Leah described herself as an "accidental urban planner" who followed her passion trying to understand humans' interactions with their environment. During a recent webinar, she traced her career path from advising businesses on green infrastructure strategies to her current work at the Urban Land Institute's Urban Resilience program, where she supports communities with information on how buildings, development and cities can be more resilient in the face of climate change and other environmental vulnerabilities.
Dulce Naime, a Venezuelan American architect, shares her story of gaining opportunities at the World Bank and Inter-American Development Bank as she honed her expertise in architecture, cities and climate change. Her passion for more inclusive and sustainable public spaces and parks moved her to pursue a career as a Community Planner at the DC Department of Parks and Recreation, where she is collaborating on the 20-year Master Plan Ready2Play, that will shape the future of parks and recreation in the District of Columbia. In her role at DC DPR, she has promoted a partnership between the agency and the GW Sustainable Urban Planning program, in which students of different SUP courses have had the opportunity to collaborate in various research and analysis for the District of Columbia Statewide Comprehensive Outdoor Recreation Plan 2020 (DC SCORP 2020) and the Master Plan Ready2Play.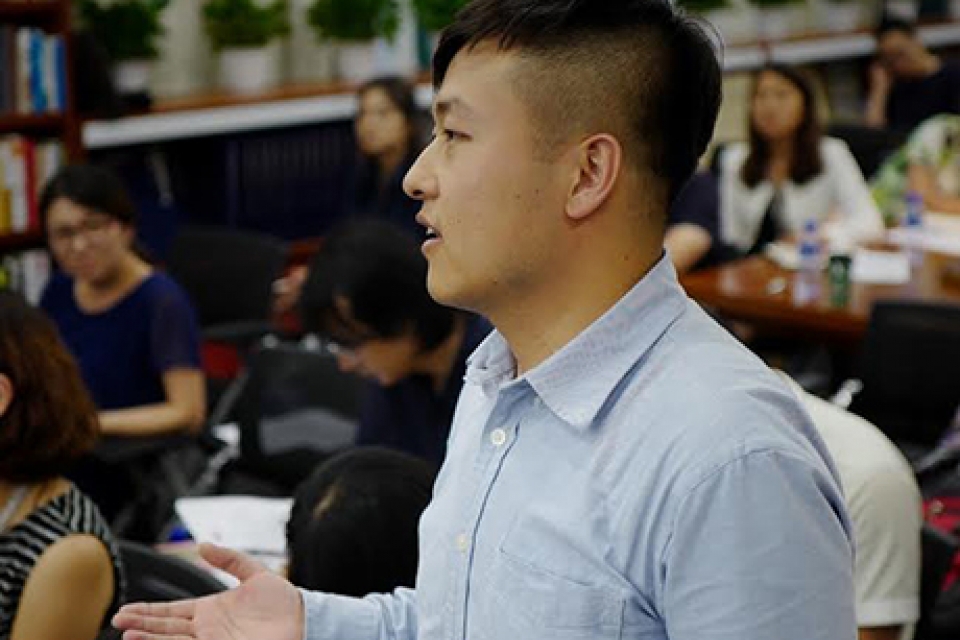 Chinese national Zhexing Li had an internship with World Resources Institute on a road safety program as well as a fellowship with Smart Growth America on walkable city studies. Li, whose undergrad degree is in urban planning, says his MPS program showed him the field's relationship with sustainability and gave him a stronger career direction. He currently works in Beijing for the China Fortune Land Development Company, a real estate development firm.
Meet Clinton Markwell '20
"While working in commercial real estate I observed first-hand the negative impact of poor planning and development practices. I transitioned into medical device sales with the hope of working with technology to create healthier outcomes for people. In many ways, I achieved that goal every day, however, my reach was limited to a small number of individuals."
"I joined the program at GW because it would allow me to apply what I learned in sales and real estate to a larger scale. As an urban planner, I could be part of a profession that plans for healthier outcomes for communities, cities and regions."
Join Our Community of Change Agents 
There has never been a better time to be part of the Sustainable Urban Planning Community. We are looking for idealistic, passionate and driven students who want to join our community and be part of the action. Want to learn more? 

 
Learn more about our Sustainable Urban Planning Program
5 Reasons to Choose Sustainable Urban Planning at GW
At GW, you will study cities through the lens of economic, social, and environmental sustainability—all through a unique focus on anthropogenic climate change—to gain a comprehensive skill set for reimagining highly sustainable, socially cohesive cities that thrive in all facets. Further your career in an emerging field by joining the next generation of globally-connected, leading urban planners and environmentalists who are pushing the boundaries of innovation in sustainable urban planning. Top reasons to choose GW include:
Top Accreditation by the Planning Accreditation Board (PAB)
Leading Expert Faculty 
Uniquely Focused Urban Planning Curriculum
Access Washington, DC

Networking and Careers —And a Global Network
Learn more about each of these areas, as well as meet some of our students & alumni who make up our global urban planning community. 
The SUP master's degree is the only program of its kind in Washington, DC accredited by the Planning Accreditation Board (PAB), which recognizes professional planning programs in North America on the basis of performance, integrity and quality. 
2: Leading Expert Faculty 
SUP is distinguished by the fact that nearly all of its faculty are based external to the George Washington University, in governmental, nongovernmental, and private sector agencies. This unique aspect of the program means that students learn from practitioners working at the leading edge of their respective fields - and have access to extensive professional networks within the Washington, D.C. region and beyond.

With contemporary, real-world experience, personal mentoring and access to extensive professional networks, SUP faculty will help you learn how to leverage knowledge of cities into forward-looking policy and action for advancing the goals of societies across the globe.
3: Uniquely Focused Urban Planning Curriculum 
GW's Sustainable Urban Planning program is the only program that emphasizes sustainability's "triple bottom line" of environmental, economic and social implications—taking an interdisciplinary approach to systemic problem solving that is ideal for planners who want to be change agents.
---
SUP's students come from all over the world. While other programs are tailored to their specific state context and are focused on training planners to work at local, regional and state planning agencies, our focus is on policy and context that transcends borders. Armed with a policy-rich, global perspective, many of our alumni return to their home countries to work in high level governmental jobs that have a broader perspective than just planning.
Planners are increasingly responsible for addressing the dominant challenge of the 21st Century: anthropogenic climate change. Our focus on climate adaptation and solutions throughout all SUP curriculum is also unique among planning programs that may offer just one or two classes on this topic.
Planners as Change Agents
Not least, our view of planners as change agents is unique. We believe the role of urban planning is to create the sustainable communities of the future with an eye towards making the world a more verdant, just and healthy place. Whether SUP students have prior background in the field or are total novices, they come to GW to acquire the skillset to make a difference.
4: Access Washington DC
Find yourself right by the heart of U.S. decision-making as GW taps its vast network of sustainability and urban planning professionals and policymakers for you to gain uncommon insights, experiences and invaluable opportunities while earning your master's from George Washington University.

Our alumni & faculty work for diverse DC employers including: 
The World Bank
U.S. Environmental Protection Agency
U.S. Department of State
5: Networking and Careers—And a Global Network
SUP knows no borders, creating local, national and international connections to leverage knowledge of cities into forward-looking policy and action for advancing the sustainability goals of societies across the globe.

With the help of our savvy and dedicated career services center, you'll gain an inside advantage on building your résumé and uncovering enviable career growth and networking opportunities. Not least, at GW you'll tap into a supremely connected professional network of more than 320,000+ living alumni found in countries all around the world. 
Sustainable Urban Planning's 10-Year Anniversary Symposium Series